Use NewsCloud to Engage Your City
NewsCloud's free and open source platform is an ideal solution for community foundations that want to meet the information needs in their regions. NewsCloud's work has been funded by three grants from the John S. and James L. Knight Foundation.
You can use NewsCloud to build social media communities that integrate and synthesize local information sources while providing a virtual town hall for building engagement.
You can see a number of these features in action in prototype city hubs such as Seattle's The Needle or The Boston Globe's Your Boston. See also NewsCloud's Knight-funded research with the University of Minnesota.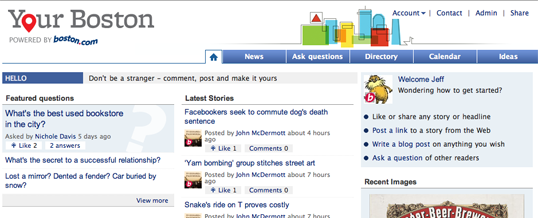 NewsCloud's Community Building Features
NewsCloud's interactive community building features are ideal for place-based communities. Here are some examples of the kinds of features that bring people together online:
News front page synthesizes curated content you want to share with popular and emerging user generated content.
Local news sources - integration with selected hyperlocal and national RSS news feeds and Twitter Lists.
Story links, blogs, photos and video - NewsCloud let's your audience contribute, whether sharing news stories, writing their own blog posts or sharing photos and video in multimedia galleries.
Discussion forums provide a place for residents to talk about a what matters to them organized by categories.
Classifieds and Lending Library - Go beyond CraigsList. Our lending library lets community members easily add household items and share them with Facebook friends or other community members.
Questions & Answers - Ask and answer questions amongst friends and neighbors in your community.
Directories can be used in a myriad of ways to provide curated and crowdsources links to local information and resources, from government services to popular restaurants.
Ideas - NewsCloud offers special areas for crowdsourcing, commenting, ranking and discussing idea on civic matters.
Events - NewsCloud makes it easy for you to import events from Facebook and other services. Community members can also add events.
Facebook, Twitter and Google+ Integration - Using authenticated identity services help foster a civil environment and nearly eliminate spam and abuse. Tight integration with Like & Send ensure viral sharing of your site content.
Things to Consider
Getting new communities off the ground successfully requires a solid plan and consistent execution. We advise against relying purely on grantees, volunteers and automation. It's important to fund staff or contributors to provide content initially. And, ultimately, you need to balance the integration of paid and user generated content. Dedicated community moderators (internally or outsourced) keep the site fresh and supportive.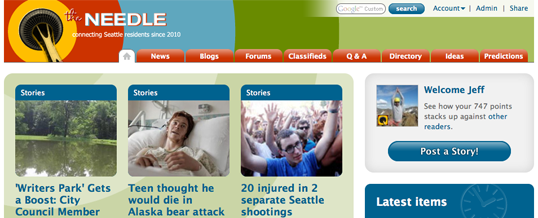 A marketing budget for online promotions and integration to other outreach efforts is critical to building awareness of your online community. The majority of news partners we've worked with fail because of inadequate linking, promotion and marketing.
While NewsCloud is free and open source, it can help to have a software consultant manage the service for you and respond to feature requests and customization with new software development.
Plan to experiment with approaches for sustainability. Building support from grantees may be enough. It may also be necessary to recruit local businesses to underwrite portions of the community.
Consider looking at the Knight Foundation's Community Information Challenge as a possible funding source. Because the contest cycle takes about six months, it may not be as appropriate for launching your local hub as it would be for expanding and deepening your efforts e.g. outreach, unique feature development, experiments with approach and business model, etc.
Learn More
We've learned a lot working with news organizations and nonprofit organizations about what works well and what doesn't. Let us help guide you. NewsCloud's community engagement plan can help you launch, promote and manage a hub in your region quickly, easily and affordably.
Contact us →